Exclusive: Military to provide up to 3,000 extra troops because G4S unable to supply 10,000 guards it promised to deliver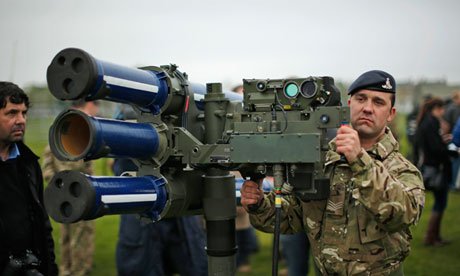 The
military
is poised to provide up to 3,000 extra troops for security duty at the
London
Olympics, the Guardian can reveal.
The last-ditch move has been forced on ministers only a fortnight before the Games because the security firm G4S has been unable to guarantee it will be able to supply the 10,000 guards it was contracted to deliver.
The home secretary, Theresa May, has been pressing G4S to provide guarantees it can deliver on its commitments, but patience in Whitehall ran out last weekend and talks began over whether the
Ministry of Defence
could fill the gap.
"The army will provide an insurance policy," said a Whitehall source. The armed forces are already providing up to 13,500 personnel for the Games - split between the venues and back-up for police. Under the contingency plans, this could reach 16,500 – 7,000 more than are being deployed in Afghanistan.
The MoD has been seeking guarantees that any soldiers drafted in at the last moment will be properly compensated for cancelled leave.
This latest move will raise fresh questions over the extent to which the Games will appear overly reliant on the armed forces – last week it was confirmed that surface-to-air missiles would be located at six sites around the capital.
The navy's biggest warship, HMS Ocean, will be stationed in the Thames and four Typhoon fighter jets will be on standby at RAF Northolt in Middlesex. Armed Puma helicopters will also be on standby.
The issue of venue security has been the most contentious for organisers and the government in the runup to the Olympics.
The total number of staff required to guard the Olympic venues more than doubled to 23,700 last December after the event's organiser, Locog, wildly underestimated the total required.
Originally, Locog contracted G4S to provide just 2,000 security guards of the 10,000 it thought it would require. But in December, G4S agreed to supply 10,000 of the new total of 23,700 under a new contract reported to be worth £284m.
http://www.guardian.co.uk/sport/2012/jul/11/army-reinforcements-olympics